About The Forum Athletic Club
The Forum Athletic Club is Atlanta's premier training facility tailored to those seeking a cutting edge, fast-paced, and effective fitness experience in a friendly and clean workout environment. We offer a complete exercise environment, with a wide variety of classes, equipment, amenities and services all designed to help you meet your fitness goals. We pride ourselves in only providing our members with the best in fitness training. We are the home of the ground-breaking Fast Twitch fitness program – a fast-paced 60-90 minute workout guaranteed to keep your muscles guessing for maximum gain. In addition to Fast Twitch, our selection of classes address all fitness levels and goals with a targeted and effective approach.
BEST TRAINING STAFF IN ATLANTA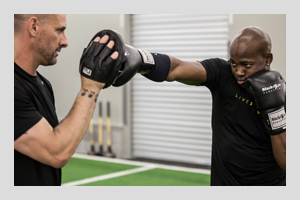 TFAC trainers are degreed in exercise science, certified by ACE, ACSM, NASM, or NSCA. Our trainers are selected for their knowledge, motivational skills and client successes.
The Forum is housed in a 21,000 square foot upscale facility with state of the art cardio and weight training equipment, his and hers fully equipped locker rooms with saunas, fully licensed childcare facility, cycling room, 2 studios, and cross training turf.
CUTTING-EDGE GROUP EXERCISE PROGRAM
TFAC provides members with the widest range of group exercise options in the Atlanta area. Our group fitness program offers Fast Twitch, Cross Training, Yoga, Core, Cycling, Cardio Agility, Kickboxing, and TRX with the latest equipment and a state-of-the art sound system. We offer over 40 classes per week flexible enough to meet the needs of beginners, as well as advanced athletes.