Mario Jordan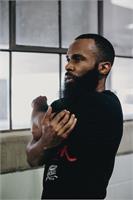 From Nashville, TN, certified through the National
Strength & Conditioning Association (NSCA). 7+ years of experience. He is also TRX Suspension Trainer and Group Fitness Instructor.
He works with a wide range of clients from men and women looking to lose or gain weight, to athletes training for a specific
sport.. His workout routines are structured around power/explosiveness and endurance training.
Mario has an unorthodox, yet functional approach to training
Mario Jordan instructs the following:



This 45-minute course is for all fitness levels wanting to improve total body strength, cardiovascular endurance, core stability, balance, and flexibility performing calesthenic exercises with the TRX Suspension Trainer. From TRX Squats to Atomic Pushups. Back Rows to Suspended lunges. The TRX is sure to take your body to the next level. "Make your body your machine."




NFL Combine meets HIIT (High Intenisity Interval Training)! This fast paced cardio circuit training is combined with athletic movements that will get your heart rate pumping in no time! In this session expect to jump hurdles, push & pull sleds, sprint and for 60 minutes of calorie crushing intensive exercise.