Keisy Myumi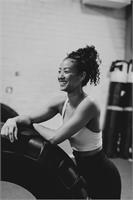 Keisy is a AAAI Master Trainer, certified Sports Nutrition Consultant and Active-Isolated Stretch Practitioner. Specializing in combining Unconventional Strength and High Intensity Interval Training, she is known for creatively enhancing traditional methods. Work outs challenge and engage the muscle groups at at deeper level, while incorporating fundamentals for balance and flexibility. She is genuinely passionate about helping her clients unlock their transformational capabilities, build healthier lifestyle habits, and get closer to a better version of themselves day after day. Whether you're looking to lose or gain weight, overcome your work out "plateau," enhance sports performance, or recondition after injury, she is dedicated to using motivational discipline to help you exceed your goals!
Keisy Myumi instructs the following:
NFL Combine meets HIIT (High Intenisity Interval Training)! This fast paced cardio circuit training is combined with athletic movements that will get your heart rate pumping in no time! In this session expect to jump hurdles, push & pull sleds, sprint and for 60 minutes of calorie crushing intensive exercise.