Matt Callahan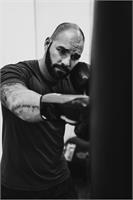 8 World Champion titles as a trainer/coach.
Matthew specializes in kickboxing & peak conditioning for athletic performance, self-defense, and fight preparation.
Named 2010 Coach & Trainer of the year - Georgia Fighters, IKF World Champion, King of the Ring World Champion & WKA Champion.
thematador1.mc@gmail.com
Matt Callahan is currently not instructing any classes.